'Nothing has prepared me or advanced my career like Pathway to Practice NC did'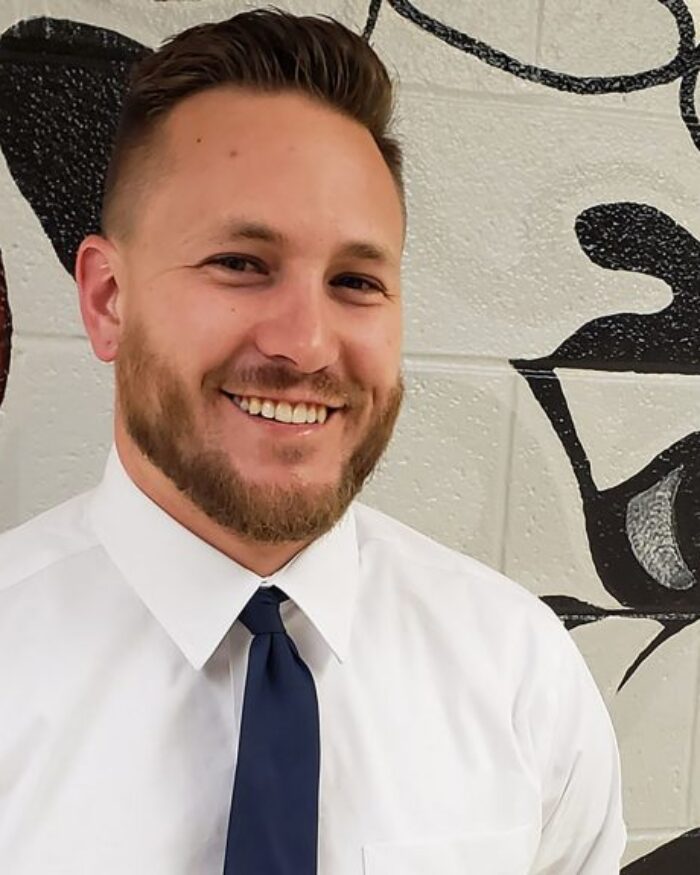 By Reah Moore
How It All Started
Baseball. Statistics. And UPS. Those are the three things that led Nick Musgrave to become a teacher.
He was throwing boxes around at UPS one night after the Christmas rush when he was hit with the thought that he wanted to make a difference in the lives of young people. He realized his true calling was working with children.
"I felt like I had more to do in this world than load boxes into a truck," he said. "I felt compelled to find something to do with my future that mattered — a way to make a difference for kids who may not have the amazing parents I had and for whom a teacher may be their only chance."
Musgrave researched his options and looked for a way to make teaching a reality. With an undergraduate degree in business administration from King University in Bristol, Tenn., he found that North Carolina had a lateral entry program (currently referred to as residency). He reached out. Drove from Tennessee. Interviewed. And landed a job as a lateral entry math teacher at Thomasville Middle School in Davidson County.
Pathway to Practice NC Experience
As a lateral entry teacher, he had the content knowledge and was hired to fill a teaching position, but he had not obtained a teaching licensure. To continue teaching, he needed to earn a teaching license within his first three years in the classroom. So he turned to Pathway to Practice NC, a 100% online teacher licensure joint program offered by UNC-Chapel Hill and NC State University. Pathway to Practice NC is a state-approved Educator Preparation Program designed to help residency-licensed teachers clear their provisional licensure and earn a full teaching license.
"Nothing has prepared me or advanced my career like Pathway to Practice did," he said. "I had two full years [of teaching] under my belt when I began Pathway to Practice and that experience pales in comparison to what I learned. The program has absolutely changed the way I teach."
Those changes range from his procedural practices and classroom management to class culture and building a safe environment for his students, added Musgrave, who completed Pathway to Practice in December 2018 after just six months. Because of his positive experience in the program, he has recommended it to his colleagues who are also lateral entry teachers. Four of them are currently enrolled in the program.
"The information gained from Pathway to Practice is invaluable and I use multiple pieces every single day in my classroom," Musgrave said. "One of the most helpful areas was classroom management skills. One assignment, in particular, has completely changed my classroom the past two years."
That assignment was creating a mission statement for his class and discussing it at the beginning of the year. He learned to word the mission statement so that, to the students, it seems as if they are all teammates instead of teacher versus student. Doing that has made a huge impact on Musgrave as a teacher, he says.
"In my four short years it has become apparent that you can't save them all, but for each life that you touch, that in itself is making a huge difference," Musgrave said. "I hope that I never allow myself to be discouraged by small defeats and to remain focused on large victories."
Licensure – Present
Musgrave is now in his fourth year teaching at Thomasville Middle School. He currently serves as a lead math teacher, seventh-grade math chair, and seventh-grade math teacher. For the first two years, he taught sixth-grade math.
He chose to teach math because as a former college baseball player at King University and private pitching instructor at NXT Level Baseball Factory in Bristol, he always loved sports statistics. And he draws on that same passion when teaching mathematics in his classroom.
"Aside from my parents, my teachers had the most dramatic impact on shaping who I am," he said. "I feel like I can be the one who connects with the kids who are unreachable. I can be that teacher who has students come back and say, 'You were the only one who believed in me.' I try to teach as much about life as math."
Even while working at UPS those years, Musgrave knew he had a passion for working with children. That's why he coached baseball. And building relationships has always been a part of him, which is why he feels he was called to teach.
"There hasn't been a day since I entered education that a student didn't give me energy and a cause to come back the next day. I just always hope I can do the same for them," he added.
Q&A with Nick Musgrave
Why did you choose education?
"Education chose me. One of my principal's favorite sayings is, 'I was trying to find direction in my career and seemed to be spinning my wheels at a job most people consider to be a pretty sweet setup, but it just wasn't for me.' I felt like I had more to do in this world than load boxes into a truck."
What attracted you to Pathway to Practice NC?
"The time frame and the affordability. It was the summer after my second-year teaching and you only get three years for lateral entry and I hadn't started classes yet. I found out about Pathway to Practice, learned that I could move at my own pace, and learned that you only pay for it as long as you use it."
What do you most enjoy about teaching middle grades mathematics?
"What better time to invoke change than that middle school age? There are so many things changing for my students and for so many of them, they simply don't have that rock at home in the form of a parent who can help them through that time. I can certainly be a smiling face, ears to vent to, or a champion who believes in them."
Apply Today.
Admissions are ongoing. Apply today to join our next monthly cohort and to begin the pathway to your teaching license.
Apply Now